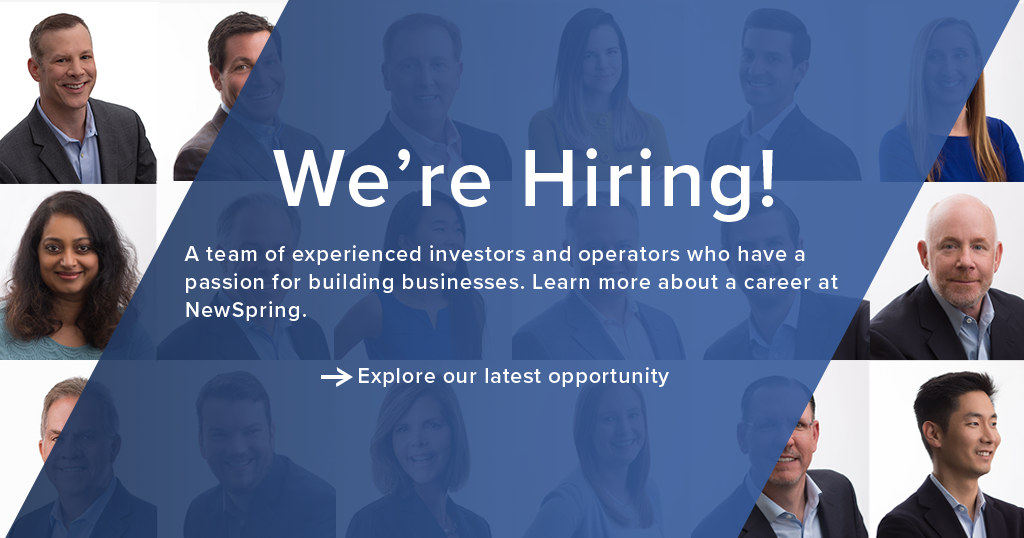 NewSpring Capital is looking for an analyst to support its Mezzanine strategy. In this position, you will play a critical role on our team of investment professionals who help to source new deals and manage our existing portfolio companies. You will provide support throughout the investment process and be involved in all aspects of the investment lifecycle including sourcing, underwriting and execution, monitoring and exiting.
Job responsibilities include, but are not limited to:
Assist in the execution of transactions across a wide range of industries, end markets, and business models
Evaluate and analyze potential investment opportunities and structures (including recapitalizations, leveraged buyouts, growth capital, acquisition financing, etc.)
Perform extensive due diligence including creating investment models
Generate investment memorandums and present directly to the Investment Committee
Assist in portfolio management and monitoring with the opportunity to work directly with the C-level management teams of existing investments
Perform market research including analyzing market size and segments and assessing competitive landscapes
Help to prepare limited partner communications and valuation analyses
Actively network and immerse self in the entrepreneurial business community
Other ad-hoc projects as needed
Qualifications:
1-3 years of work experience in a related finance position such as leveraged finance, private equity, transaction services, investment banking, mezzanine debt, commercial lending, etc.
Passion for private equity and credit with the desire to learn and be successful
Exceptional problem-solving skills with the desire to always go one step further to find the answer
Team player who is always willing to step in when needed and be a part of our tight knit culture
Extremely detail oriented with a propensity for continuous improvement and learning from experiences
Strong analytical capabilities and financial modeling skills. Highly proficient in Excel and PowerPoint
Excellent written and verbal communication skills
Strong work ethic, ability to be proactive and responsive in high-pressure situations
Record of strong academic performance from a leading undergraduate institution
Working knowledge of accounting and finance concepts
If you're interested and qualified for this role, please send your resume to careers@newspringcapital.com!
About NewSpring Mezzanine
NewSpring Mezzanine provides a wide range of flexible mezzanine debt and equity solutions, combined with deep operational expertise for growing lower-middle market companies in resilient, expanding industries. We target companies with greater than $20mm of revenue and $2mm of EBITDA and we have significant experience in business and consumer services, niche manufacturing, distribution, and tech-enabled services. The Mezzanine strategy is currently investing out of Fund IV (~$365mm fund).
About NewSpring Capital
NewSpring partners with entrepreneurs to catalyze new growth and seize compelling opportunities, creating measurable value and success for our business owners and Limited Partners. We foster deep and enduring relationships, hold ourselves to the highest standards, and align our goals and values with entrepreneurs, investors, and employees in pursuit of excellence. We manage approximately $2.5 billion across five distinct strategies covering the spectrum from growth equity and control buyouts to mezzanine debt.